KIDS' PROGRAMS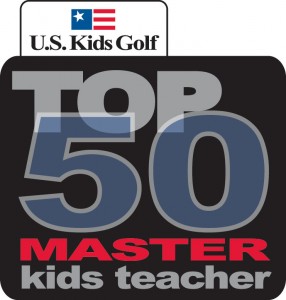 Our award winning Kids Programs are some of the best in the state. Because we combine golf lessons and life lessons, and a whole ton of fun.  And best of all, we make every kid feel comfortable, so they can walk away with a giant smile.
HAPPY CAMP
(Beginners)
Let's start out playing golf the right way.  Let's focus on fun, smiles, laughter, and friendship. Because if it's not fun, why play?
Happy Camp introduces new players to the game in a way that encourages trying new things and understanding the basics of what golf is all about.  It's not about winning or having the lowest score.  It's about the fun time we have with other people.
Oh, and I better mention the family week, duck race, gummy bears, and trick shots.
That's our version of golf.  The happy version.
9 weeks of fun.  We know you have other stuff going on...that's why we made it so long.  It's okay to miss a class or two.  And if you sweet talk me (or bring me cookies), you'll probably be able to make it up.
Saturdays: June 17 - August 19 (no July 8)

11-12:30pm

Parker's Lake Golf Center, Plymouth MN

$240
Mondays: June 12 - August 14 (no July 3)

1-2:30pm

Brookland Golf Park, Brooklyn Park MN
(note location for this class)



$240
Tuesdays: June 13 - August 15 (no July 4)

10-11:30am

Parker's Lake Golf Center, Plymouth MN

$240
Thursdays: June 15 - August 17 (no July 6)

10-11:30am

Parker's Lake Golf Center, Plymouth MN

$240
Wednesdays: June 14 - August 16 (no July 5)

10-11:30am

Parker's Lake Golf Center, Plymouth MN

$240
Wednesdays: June 14 - August 16 (no July 5)

10-11:30am

Parker's Lake Golf Center, Plymouth MN

$240
TEAM GOLF
(Beginners and Experienced)
Sports are always more fun with friends.  You get to compete with each other, laugh together, and play a bunch of games.
You'll compete for the coveted gummy bear trophy, have a Skav-enger hunt (trust me, I spelled it right), learn some trick shots, make new friends, and eat pizza, all while learning how to play golf?
I know, it IS awesome.
Usually people think of golf as an individual sport.  But, we know better. Nothing is an individual sport...there are always people with you in some way.  And that's what makes it fun.
Teams will be comprised of 4-8 players. We encourage you to sign up as a team, but if not, we'll find you a team.  Get ready for a summer of fun.
Tuesdays: June 13 - August 15 (no July 4)

1-2:30pm

Parker's Lake Golf Center, Plymouth MN

$240
FRIDAY LEAGUE
(A little experience helps)
Besides, "When is the duck race?", the most common question I've heard is "When can we go on a real course?"  This year, we've got you covered.
But our league is different.  We play games on every hole.  We don't always keep score.  And best of all, we always have either myself or one of my assistants walk with every group.  Because that's how you'll learn best... and it's really fun.
Every Friday, we'll head out to a course around the Plymouth area and play for a few hours.  During that few hours we'll cover everything you'll need to know to feel comfortable on the course.  And we'll play games.  Lots and lots of games.
If you have friends, sign up with them and we'll put you in the same group each week.  If not, we'll find a group of friends that fits your style.  Fair warning: this is really fun.
Fridays: June 16 - August 18 (no July 7)

Tee times between 10-12pm (play for 1.5 - 2 hours)

We play at various courses close to Plymouth MN

$275
BATTLEBALL LEAGUE - (free with registration during first week)
It's been called "the greatest logo of all time," but we call it "the greatest putting game ever."  We created this game a few years ago and defines what we're all about: creativity, friendship, strategy, and a ton of fun.
Battleball takes 5 minutes to learn... and I guaranteed you will be hooked.
We play this periodically in our other classes, but this year we're starting a league.  Grab your friends and form a team (if not, we'll match you up).  Each week you'll play against a different team and we'll have an end of the season tournament.  Big plans for that one.
This is for any kid age 8-15.  And no Battleball (or golf) experience is necessary.  Don't worry, I've seen 8 year olds take down 15 year olds in this game.  Come join us.  This is awesome.
Register for any other class from March 2 - March 5 and play in the Battleball league for FREE.  (You don't need to register for Battleball separately. We will note all registrations between the above dates and include you in the Battleball class)
Tuesdays: June 13 - August 15

12-1pm

$125
Bryan Skavnak is the happiest golf professional in Minnesota.  Through his heartfelt and sometimes goofy stories, Bryan blends humor and inspiration to teach you about golf and life.  He is the author of the #1 Best Selling book, Happy Golf Starts Here.  He is the founder of the Bryan Skavnak Golf Academy, which for nearly 20 years has taught kids and adults how to have more fun and confidence by showing them that score doesn't matter, people do.
He is one of U.S Kids Golf's Top 50 Master Kids Teachers in the world and a Junior Golf Leader award winner in Minnesota. He is also the creator of Battleball... the greatest game you will ever play.
As an inspiring speaker and writer, Bryan has helped thousands of golfers (and non-golfers) achieve their dream of being happier and more confident by revealing how to surround themselves with a team of good people and embrace how the game of golf can improve relationships.
Bryan has 11 different colored belts, has stacked 5 golf balls on top of each other, and can dance to N 'SYNC's Bye, Bye, Bye. He also can both Whip and Nae Nae. He is married to his beautiful wife Kim, and has two darn cute kids, Ethan and Ella, who eat more vegetables than candy. Weird kids.