ADULT PROGRAMS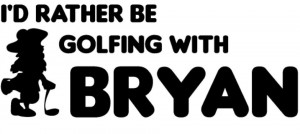 It's time to have fun again. Sometimes your fun is hitting the ball further, or more consistent, or up in the air.  Sometimes your fun is getting comfortable and less embarrassed on the course.  Sometimes your fun is getting creative, playing some games, and laughing with some cool people.  Let's do it all.  I'll show you how.
HAPPY LESSON CLUB
(Any skill level welcomed)
Fun, interactive group lessons are the staple of our Academy.  And it's the reason so many people come back year after year.  Small tips, quick insights, and a whole lot of supervised practice.  You'll be on your way to smoothing out your game in no time.
Join our monthly club and feel free to show up during any of our times.  There are options 5 days per week at various times.  It's easy, convenient and very affordable (really, you won't believe it).  And you also get to come to any Specialty Clinic. Plus, the non-intimidating atmosphere will help you make progress and have fun.
Check out the schedule and options by clicking the orange button below.  Plus, I'll get you rolling by giving your first lesson free, so you can see what all the fun is about.
TEAM GOLF
(Any skill level welcomed)
Fair warning: I'm going to treat you like a kid.  And that's a good thing.
We model this Adult Team Golf class off our Kids' version.  We focus on certain shots and skills, then follow it up with some of the most fun games you'll ever play.  Never played Battleball?  Just wait. You won't want to leave.
Usually people think of golf as an individual sport.  But, we know better. Nothing is an individual sport...there are always people with you in some way.  And that's what makes it fun. The only thing we ask is that you have fun with friends...both old ones and new ones.
If you've got a team, great, sign up with them.  If not, we've got you covered. We'll find a team for you.
And don't worry, it's relaxed and casual class.  You'll be comfortable.  You'll laugh a lot.  You'll smile a lot.  And you'll see how much fun golf can be.
Thursdays: June 14 - August 16 (No July 5)
6:30-8pm
Parker's Lake Golf Center, Plymouth MN
$270
SPECIALTY CLINICS
(Any skill level welcomed)
Let's tackle one area of your game where you really want help.  Each clinic is designed to address those little problem areas that you just can't figure out.  (Oh, and they're really fun).
We cover every imaginable topic: Chipping, Pitching, Driving, Course Management, How to have more Fun, Trouble Shots, How to Flirt with the Beverage Cart girl (maybe not that one), and a bunch of other fun topics.
Hit up the ones that you enjoy.... or join the Happy Lesson Club ($97/month) and enjoy unlimited group lessons AND unlimited specialty clinics.
Happy Golf University
Everything you need to know about your game in 2 days of high-level, on-course, deep-dive action.  Sounds cool, doesn't it?
We'll hit every shot from chips to pitches to drives to putts (and more).  Then we'll follow it up daily on the course. You'll walk away with a deeper understanding of how to make your game the best game. Held at world-renowned Edinburgh USA, this is the program that will bring your game to the next level.
Bryan Skavnak is the happiest golf professional in Minnesota.  Through his heartfelt and sometimes goofy stories, Bryan blends humor and inspiration to teach you about golf and life.  He is the author of the #1 Best Selling book, Happy Golf Starts Here.  He is the founder of the Bryan Skavnak Golf Academy, which for nearly 20 years has taught kids and adults how to have more fun and confidence by showing them that score doesn't matter, people do.
He is one of U.S Kids Golf's Top 50 Master Kids Teachers in the world and a Junior Golf Leader award winner in Minnesota. He is also the creator of Battleball... the greatest game you will ever play.
As an inspiring speaker and writer, Bryan has helped thousands of golfers (and non-golfers) achieve their dream of being happier and more confident by revealing how to surround themselves with a team of good people and embrace how the game of golf can improve relationships.
Bryan has 11 different colored belts, has stacked 5 golf balls on top of each other, and can dance to N 'SYNC's Bye, Bye, Bye. He also can both Whip and Nae Nae. He is married to his beautiful wife Kim, and has two darn cute kids, Ethan and Ella, who eat more vegetables than candy. Weird kids.